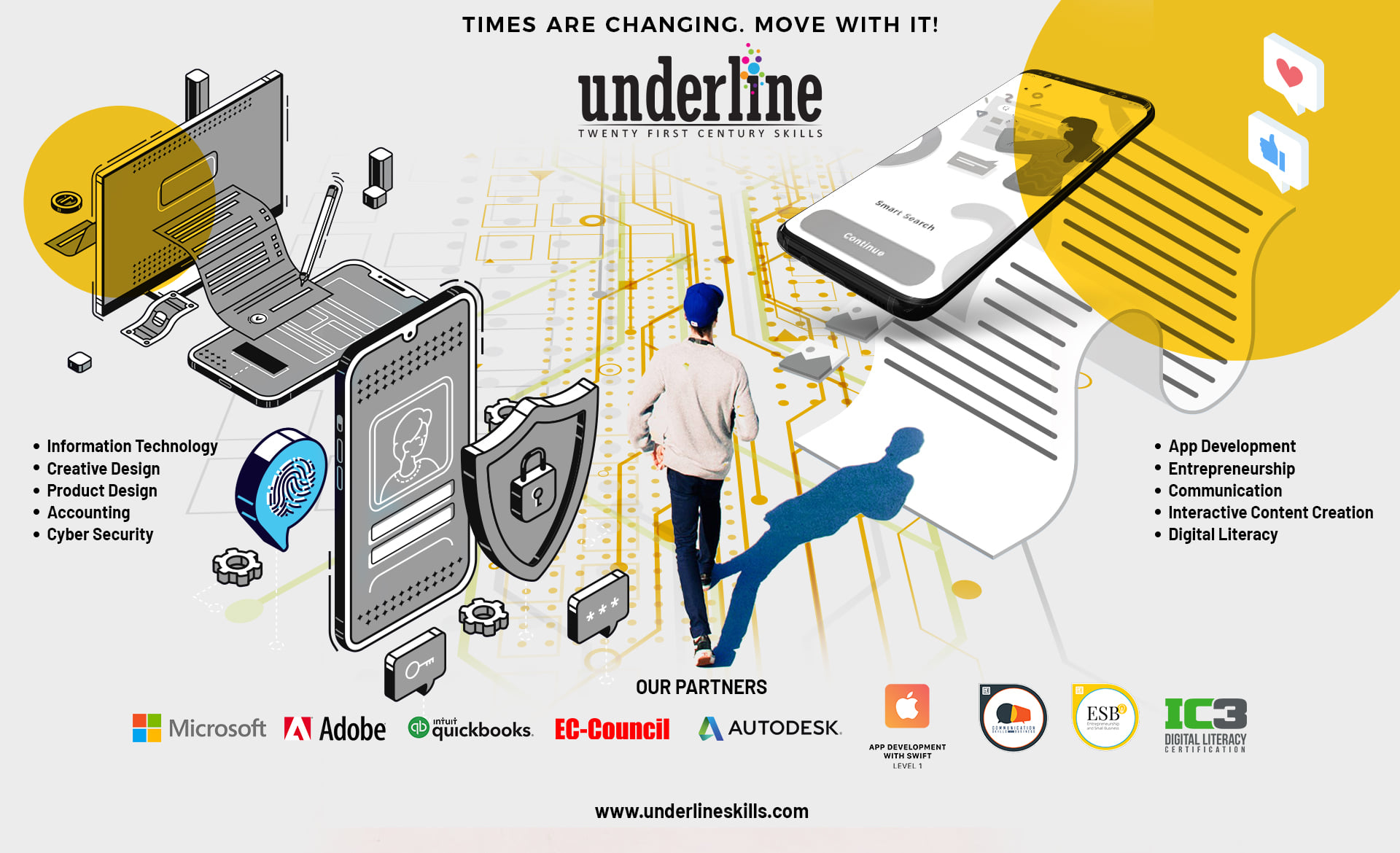 UNDERLINE

ABOUT
Underline is an EdTech company providing integrated learning, assessment & certification programs of the world's biggest education & technology companies including Microsoft, Apple, Adobe, Autodesk, Intuit, Unity, EC Council, PMI-USA to name a few. To meet the industry demand, Underline is also introducing a series of job oriented "Industry-Connect" courses that shall equip students with contemporary skills specific to various industrial requirements.
In the 21st Century, Underline is skilling participants to help them tackle & solve real-world problems, build strong employ-ability for themselves and contribute towards building and sustaining economy.
CHALLENGE
To create the brand from the scratch. To devise Brand Nomenclature, Identity, Strategic & Creative Communication, as well as a 360-degree marketing campaign for the launch of the company.
CAMPAIGN
Universal Selective strategically named the EdTtech Brand as 'Underline', a company that lays emphasis & focuses on the need for Skilling, Re-Skilling & Up-Skilling. We conceptualized and executed the strategy & creative communication for Underline. The 'Tagline' – 21st Century Skills aptly reflected the core essence & futuristic imagery of the company. The unique brand identity was created along with a series of print & digital artworks for Underline and its partner brands. A creative Brand Film was created in "Hindi" to tap on to the Indian market marking the launch of the EdTech brand. A unique virtual event called "The Power of Tech Skill Certifications" was also created in partnership with Microsoft & Autodesk, receiving participation from hundreds of students & professional speakers representing global companies including Microsoft Worldwide Education, Certiport, Facebook, IML India, Electrolux Sweden, NBN Communications-Australia to name a few.
RESULT
Universal Selective successfully launched Underline. The company is today enjoying a diversified portfolio of top global brands and has successfully commenced operations in India.
…………………………………………………………………………………………………………………………………………………………………………………………………………………………………………………………………………………………………………………………………………..
Creative Agency in Jodhpur, Top Advertising agency in Jodhpur,  Video Production  in Jodhpur, Creative Agency  in Rajasthan,  Top Advertising agency  in Rajasthan,  Video Production  in         Rajasthan,  Branding Consultancy  in Jodhpur,  Branding Consultancy in Rajasthan,  Branding Design in Jodhpur,  Branding Design in Jaipur,  Branding Design in Ahmedabad,  Strategic Design in Consultancy,  Corporate Film Makers,  Social Media Agency in Jodhpur,  Social Media Agency in Ahmedabad,  Social Media Agency in Jaipur,  Content Design agency,  Top Branding Agency Rajkot,  Industrial Branding Agency,  Industrial Marketing Agency,  Top Advertising Agency in Rajkot,  Branding Agency in Singapore, Indian Branding Agency,  Top Indian Branding Agency,  Brand Communication Consultancy, Branding for startups, branding for SMEs, brand communication for startups, brand communication for SMEs, advertising for startups, advertising for SMEs.