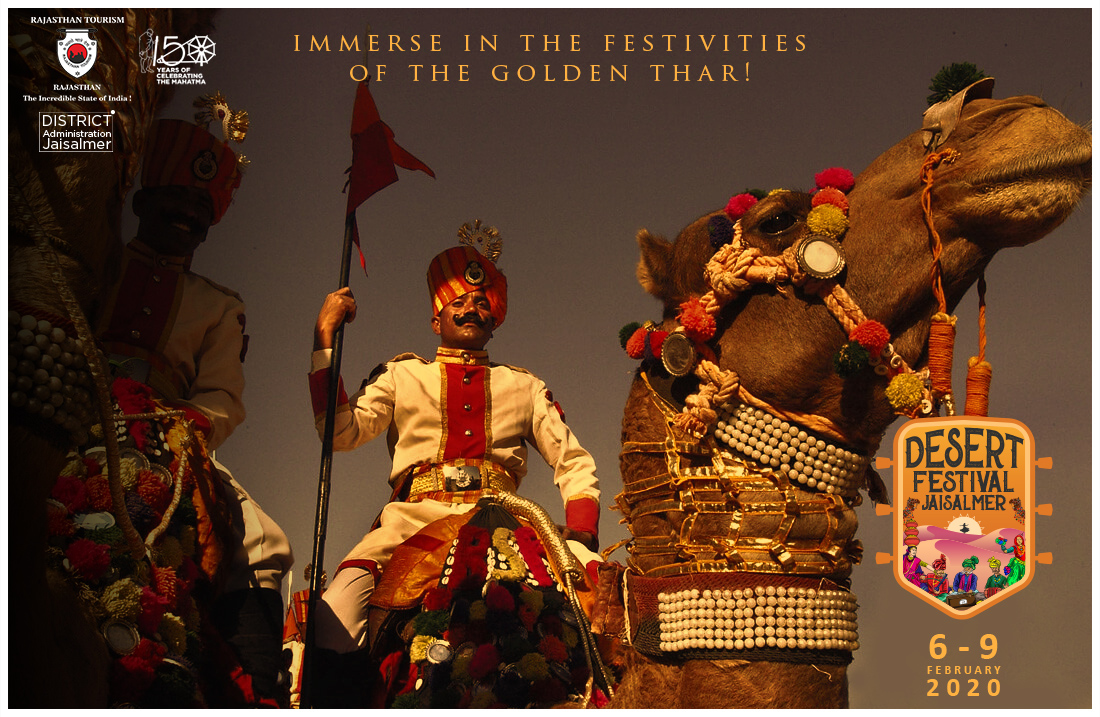 RAJASTHAN TOURISM

ABOUT
The Desert Festival Jaisalmer (मरू महोत्सव, जैसलमेर) is an annual event jointly organized by Rajasthan Tourism & District Administration, Jaisalmer in the month of February in Jaisalmer, Rajasthan. The festival is celebrated at various spots across Jaisalmer including Sonar Fort, Sam & Khuri Dunes, Khaba Fort, Kuldhara to name a few. This massive event attracts a large gathering of National & International tourists from across the world & is a kaleidoscope of Rajasthani culture & traditions with mesmerizing performances from the coveted artists.
CHALLENGE
To break the communication monotony of the festival & devise and establish a new-age creative brand identity & communication for the festival!
CAMPAIGN
Universal Selective successfully devised the creative brand identity and communication campaign for Desert Festival Jaisalmer 2020. Blending the inherent Rajasthani cultural elements with modern style patterns, the communication included Custom Still & Video Logo, Branding Collaterals, Print & Outdoor Ads and Social Media Creatives.
RESULT
The communication was well appreciated by all festival stakeholders including Government, Media, Residents, National & International Tourists, Travel & Tourism Business owners, Hospitality Businesses & Tourism Trade bodies; resulting in one of highest footfall of tourists attending the festival.
………………………………………………………………………………………………………………………………………………………………………………………………………………………………………………………………………………………………………………………………………
Creative Agency in Jodhpur, Top Advertising agency in Jodhpur,  Video Production  in Jodhpur, Creative Agency  in Rajasthan,  Top Advertising agency  in Rajasthan,  Video Production  in  Rajasthan,  Branding Consultancy  in Jodhpur,  Branding Consultancy in Rajasthan,  Branding Design in Jodhpur,  Branding Design in Jaipur,  Branding Design in Ahmedabad,  Strategic Design in Consultancy,  Corporate Film Makers,  Social Media Agency in Jodhpur,  Social Media Agency in Ahmedabad,  Social Media Agency in Jaipur,  Content Design agency,  Top Branding Agency Rajkot,  Industrial Branding Agency,  Industrial Marketing Agency,  Top Advertising Agency in Rajkot,  Branding Agency in Singapore, Indian Branding Agency,  Top Indian Branding Agency,  Brand Communication Consultancy, Branding for startups, branding for SMEs, brand communication for startups, brand communication for SMEs, advertising for startups, advertising for SMEs.